JOVEN Water Heater Without Pump SA20E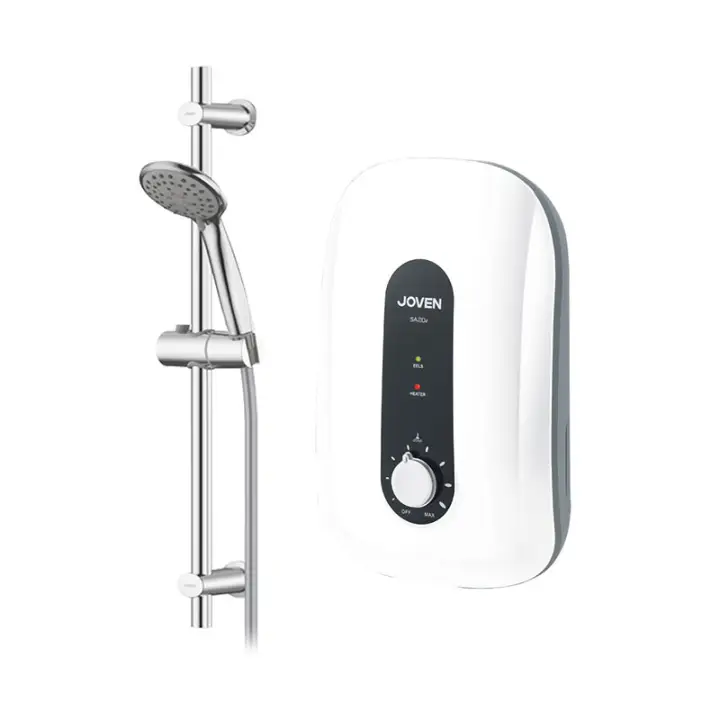 Features
Patented SF valve :- Electronic temperature power control.
Stylish jomet silver casing.
Built-in EELS system with surge protector.
Stepless electronic power control.
IP25 splash proof protection.
Quater turn ceramic SF valve (Built-in filter, water saving valume control and stop valve).
Slim slider bar set design.
3 click select spray pattern hand shower.
Durable, safe and hygenic reinforced 3 layer flexi-hose.
 Stylish Jomet Silver Casing 

Beautiful and durable white.

Compact, sleek and remarkably stylish.

 Built-in EELS System With Surge Protector

10mA sensitivity automatic electrical leakage detector.

Protect electronics circuit from sudden power surge.

TEST / RESET safety function.

 Stepless Electronic Power Control

Ideal shower temperature.

 IP25 Splash Proof Protection

Against access to hazardous parts.

International standard IEC 60529 compliance.

 Quater Turn Ceramic SF Valve

Stop and control water volume.

 Slim Slider Bar Set Design

Adjustable push on or down shower holder.

 Jet Spray For 3 Click Select Spray Pattern Hand Shower

Select this option to ease stiff muscles handshower off the day's stress with a steady flow of high-pressured water.

 Maxi Spray For 3 Click Select Spray Pattern Hand Shower

A combination of wide spray and jet spray gently refresh tired muscles after a hard day's work.

 Wide Spray For 3 Click Select Spray Pattern Hand Shower

Perfect for a nice, long shower. Spreads the pressure evenly across your body to ensure a wonderfully satisfying session.
Specifications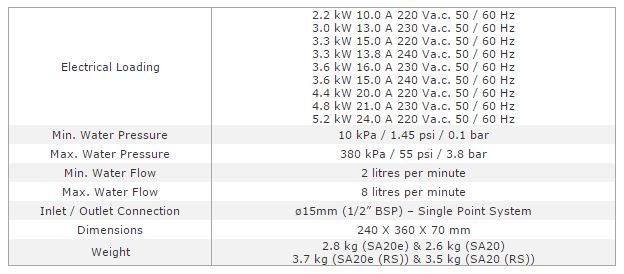 Internal Parts

1 years warranty on internal parts

Heating Element

5 years warranty on heating element

Service Assured

After-sales service assured.