LG 1.0HP Dual Inverter Premium Air Conditioner S3-Q09JA2PA (with Ionizer and ThinQ™ Function)
---
Plasmaster™Ionizer+

Pre-Filter
Traps Big Dust from the Start
Traps big dust particles as the first line of defense.
Simple Control with Voice Assistant
Tell your air conditioner exactly what you need, when you need it. Say, "Turn on/off the air conditioner." and the AI speaker will listen and turn on/off the air conditioner.
Connect and Control from Anywhere
The LG ThinQ™ app allows you to easily connect with your air conditioner in a way you never could before. Start your air conditioner with just the tap of a button.
Efficient Product Maintenance
The LG ThinQ™ app continuously monitors your air conditioner. Whether it's everyday maintenance or something else, the app allows you to easily monitor energy usage.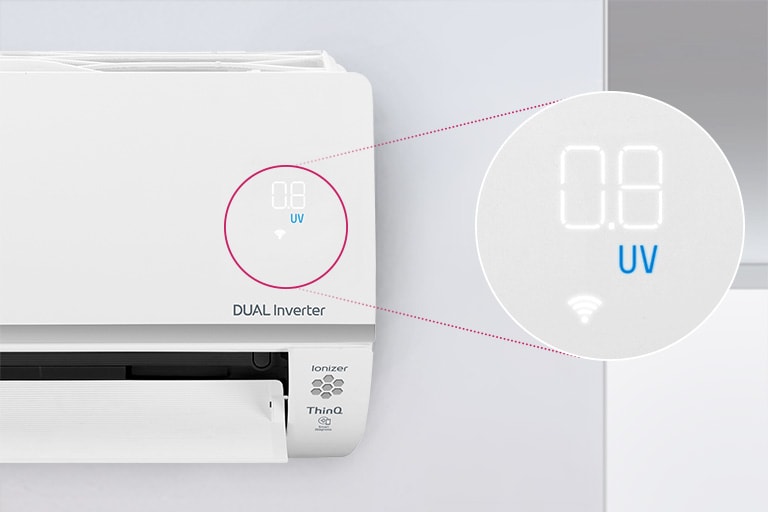 Easy-to-Monitor Energy Consumption
The display keeps you informed so you can easily monitor and reduce energy consumption*. *Energy consumption during A/C operation.

Environment-Friendly Refrigerant
Prevent environmental pollution with R32 refrigerant's improved energy efficiency.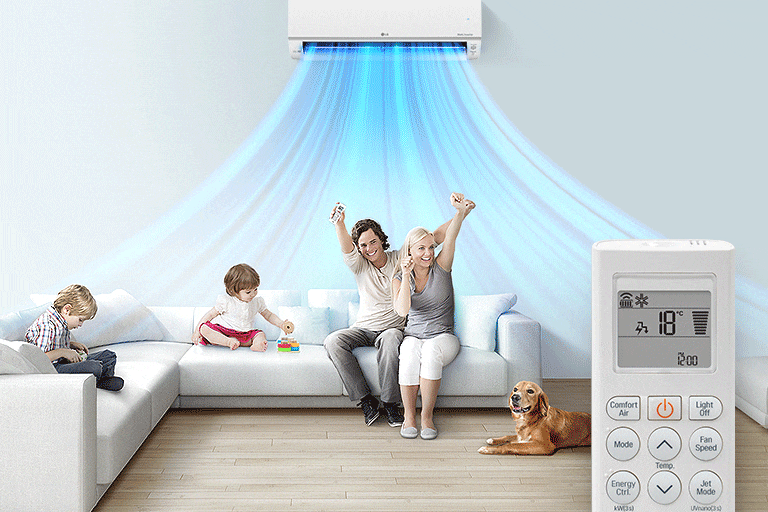 Control 4 Levels of Energy Consumption
Control energy consumption with 4 levels based on your needs, whether alone or with family.

Quick and Easy Installation
Enjoy cool air sooner with air conditioning that takes less time and effort to install.

A More Comfortable Sleeping Environment
Experience the most comfortable sleeping environment with automatically adjusting functions*. *When the comfort sleep function is activated.

Safety Against Voltage Fluctuation
Enjoy a durable air conditioner with an ability to withstand voltage fluctuation*. *LG Internally tested "rated voltage ± 30%" fluctuation and it may vary depending by environment.
DIMENSIONS
SUMMARY
CAPACITY – MIN.~RATED~MAX.(BTU/H)
1,800 – 9,200 – 11,900
DIMENSION
Indoor Unit (WxHxD) (mm): 837 × 308 × 189
Outdoor Unit (WxHxD) (mm): 720 × 500 × 230
NET WEIGHT
Indoor Unit(kg): 8.7
Outdoor Unit (kg): 21.7
KEY FEATURE
Dual Inverter Compressor
10 Years Compressor Warranty
Active Energy Control
Self Diagnosis
Auto Cleaning (Coil Dry)
Auto Operation (Artificial Intelligence)
Auto Restart Operation
Sleep Mode
AIR PURIFYING
Prefilter (Washable / Anti-Bacteria)
Micro Dust Filter
Plasma Air Purifier (Ionizer)