LG TONE Free HBS-FN4 with Meridian Technology
with MERIDIAN audio technology – Spatial & Clear Sound
Special EQ by MERIDIAN – great sound for whatever you listen to
Medical Grade Ear Gels – comfortable and clean
Ambient Sound Mode – hear the outside world when you need to
Sleek Design & Compact Charging Case
Long Battery Life – 6 hours playtime
New LG TONE Free​
Refresh Your Sound
Clear and spatial sound with Meridian and a sleek, comfortable design turn the true wireless earbud experience up a notch.
Premium Sound
Clear and Spatial Sound
With sound designed by Meridian, LG TONE Free FN4 delivers clear and spatial audio. No matter where you are, become completely immersed in whatever you listen to and forget you are wearing earbuds.
Sound, Engineered Together
"Whether you're at home, in the car, commuting or at the gym, the new LG TONE models are a clear step forward in audio innovation and performance, and will provide outstanding entertainment for consumers worldwide, meeting the demand for convenient high quality listening experiences, anywhere."- John Buchanan, CEO at Meridian Audio –
Prestigious British Audio, MERIDIAN
Since 1977, Meridian have been crafting innovative, elegant, high performance audio solutions. As the British pioneer of high-resolution audio and a leading authority on Digital Signal Processing (DSP) they transform the way people experience sound, wherever they are.
MERIDIAN's Leading Technologies
Since their inception more than 40 years ago, Meridian's rigorous and research-led philosophy has maintained their position on the limits of what's possible in sound. As the Pioneers of High Resolution Audio and Masters of Digital Signal Processing (DSP), Meridian have played an integral role in the development and adoption of pioneering technologies.

Digital Signal Processing
Meridian are the masters of Digital Signal Processing (DSP) and pioneered the concept of the DSP digital active loudspeaker with integrated amplification. DSP allows absolute control over the audio signal, enabling the design of advanced technologies that can enhance the listening experience in any context.


Meridian Lossless Packing
Meridian have been a long-term collaborator and technology partner with Dolby. Meridian Lossless packing technology was developed by Meridian and licensed to Dolby as the standard for DVD audio.
Master Quality Authenticated
Meridian developed MQA – the revolutionary technology for efficiently streaming music with the highest possible sound quality. With MQA you can be sure that you're hearing exactly what the artist approved in the studio.
Headphone Spatial Processing​
Sound with a Realistic Sense of Space
Meridian's Headphone Spatial Processing (HSP) overcomes the challenges of headphone listening such as their compact size and lack of 'crosstalk' between the left and right channels. HSP not only recreates a realistic soundstage that simulates the experience of listening to real loudspeakers, but it also delivers vocals with pristine clarity. This is a fresh listening experience helping you forget you are wearing earbuds.
6mm Driver Unit
Enjoy MERIDIAN Sound to the Fullest
A 6mm custom-built driver unit optimises how you experience Meridian sound. This powerful yet compact unit promotes vocal clarity and intensifies rich bass.​
Special EQ by Meridian
The Best Sound for All Types of Music​
As well as the standard Immersive mode, you can choose three other presets enhanced with Meridian Headphone Spatial Processing (HSP).
Immersive Sound with Safety
Noise Isolation
A Close Fit that Blocks Out Noise
The close in-ear fit provides a remarkable seal that helps to block out surrounding noise, even when you're in a busy café, noisy workspace, or crowded bus.
Ambient Sound Mode
Hear Your Surroundings ​for Extra Safety​
A simple tap on your earbuds lets you be fully aware of your surroundings. This mode ​is useful when you need to have a quick conversation, pick up an announcement on ​public transportation, or cross a street. It's a more convenient and safer way to enjoy music.​
Call Clarity
Noise Reduction & Echo Cancellation​
LG TONE Free FN4 features built-in, high-performance dual microphones for maximal call clarity. Echo Cancellation and Noise Reduction, which is engineered with the leading beamforming algorithm of LG TONE neckband series, detects and minimises unwanted noise. And the lower microphone positioned at the end of the stem picks up and amplifies your voice even in a crowded space.
Medical-Grade Ear Gels

Hypoallergenic and Comfortable
LG TONE Free FN4 earbuds have comfortable, medical-grade ear gels made from non-toxic, hypoallergenic silicone that allows you to have fewer worries about all-day use.
Find Your Perfect Fit from Three Sizes
*This device or any of its parts is not intended or implied to prevent or treat any health conditions; it is not a medical device, nor for use as or to replace a medical device.
*The base material in silicone ear gel meets ISO 10993 and USP Class VI requirements.
Simply Effortless​
Water Resistant
IPX4 Rated for Sweat and Rain
Don't sweat it: water resistance has your earbuds protected when you're sweating while working out or walking in the rain. LG TONE Free FN4 earbuds are IPX4-rated, meaning they are resistant to water splashes from any direction, so you can keep listening rain or shine.
Battery Life
Just the Right Amount of Power
Enjoy a total of 18 hours of battery life. Up to 6 hours of playback in the earbuds and an extra 12 hours in the cradle — all from one charge.​
*Standard playtime when listening to music.
*The earbud batteries and cradle battery last for 6 and 12 hours respectively when listening to music.
Fast Charging
Power Up in 5 Minutes
No time? No problem. Just 5 minutes of charging will give you 1 hour of playtime.
*Enjoy 1 hour of music playtime after charging the cradle for 5 minutes with the earbuds inside.
New TONE Free App.
Customizable EQ Settings
With an easy-to-use app., you can add new levels of enjoyment to your music with four Meridian EQ presets and two customisable EQ modes. Boost or diminish specific frequencies to personalise all music just how you like it.
New TONE Free App.
Find My Earbuds
You can easily locate your missing earbuds that will beep sound when you press play in the Find My Earbuds page.
Automatic Ear Detection
Automatic Pairing and Pause
LG TONE Free FN4 earbuds sense when they're in your ears then immediately pair with your phone, and automatically pause music when you take them out.
Sleek and Minimal Design
Refreshingly in Style
The minimal and stylish design of the earbuds accompanies any look from casual to business. An ergonomic fit also means you barely notice the earbuds in your ears. LG TONE Free FN4 is perfect for those who want to focus on what they're listening to and look sleek while doing so.
Ergonomic Design
Balanced for a Better Fit
LG TONE Free FN4 earbuds have been engineered to fit comfortably in your ears with head-centered weight distribution that helps them stay snug and secure. The flexible, medical-grade ear gels conform to your ear shape so you can enjoy music for longer without feeling your earbuds.
*The image is simulated.
Compact Cradle
Fits Right in Your Palm
Minimal yet with a unique shape, the LG TONE Free FN4 cradle is compact enough to fit in your palm, and stylish enough to fit any aesthetic.
Stylish Black and Modern White
Choose your tone from Stylish Black for a chic feel or Modern White for that classic look.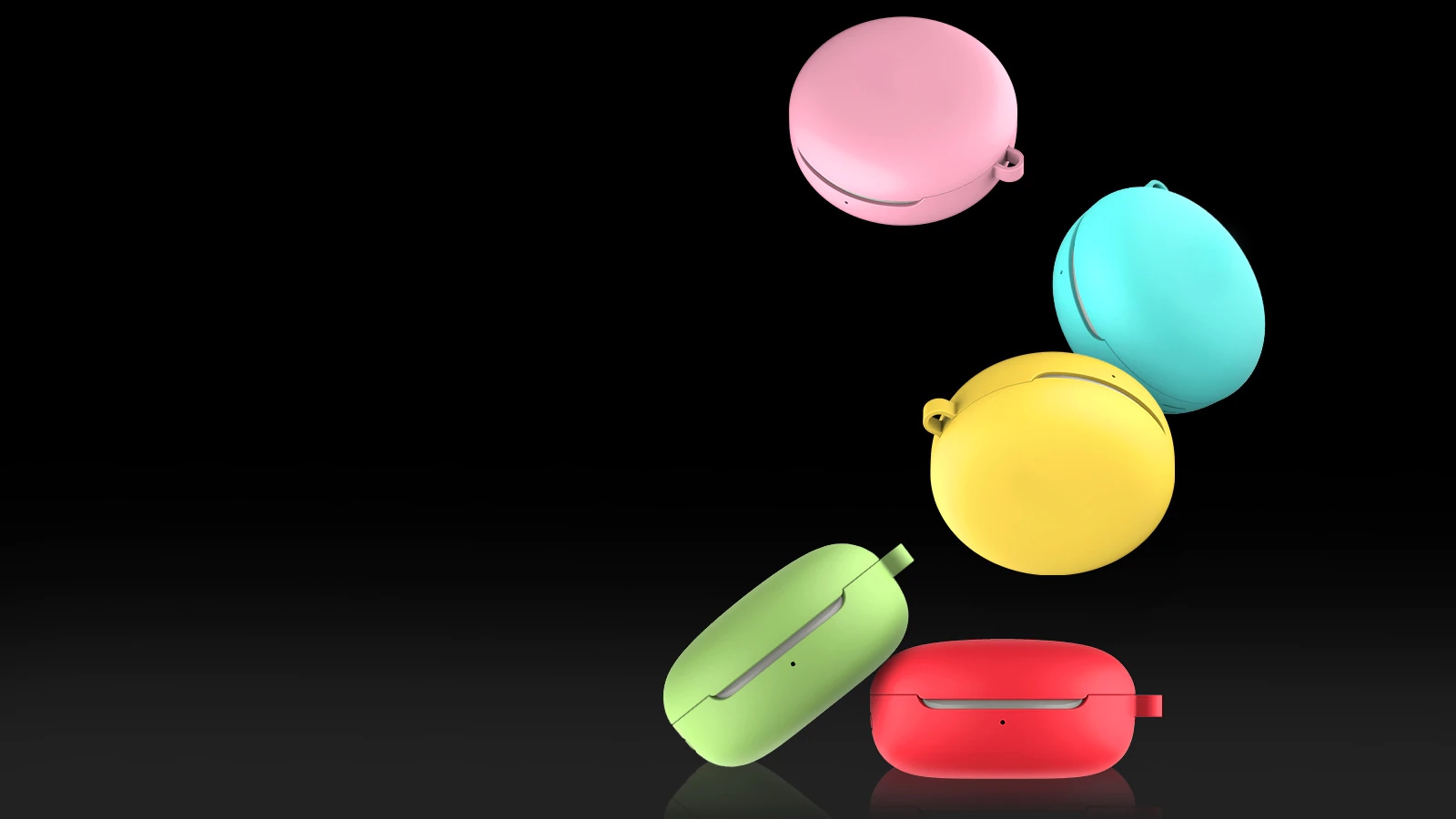 Colorful Macaron Covers
Match Your Taste
Add a dose of flavour with Lemon, Mint, Pistachio, Raspberry, and Strawberry covers exclusive to LG TONE Free FN4.
*Macaron covers are not included with LG TONE Free FN4 and need to be purchased separately.
#LGTONEFree
Specifications
PRODUCT SIZE(W X H X D, MM)
Product Size (W x H x D) mm: 16.1 x 32.766 x 25.0
Charing Case Size (W x H x D) mm: 54.6 x 54.6 x 27.5
PRODUCT WEIGHT(KG)
Product Net Weight (Kg): 0.0054
Charging Case Net Weight (Kg): 0.039
PACKAGING
Packaging Size (W x H x D) mm: 90 x 90.6 x 58
Packaging Weight(kg): 0.1635
DISPLAY INFORMATION
USB C-type (Female): Yes
Display Type: LED Indicator (BT, Power on, Battery)
CONNECTIVITY
Bluetooth Version: 5.0
BLE supporting: Yes
Google Fast Pair Service: Yes
SOUND – SPEAKER
Open / Semi-open / Canal: Canal
Unit type (BA,Dynamic, etc) and Size: Dyn 6Φ
SOUND – SOUND SOLUTION
SOUND – MIC
SOUND – MIC SOLUTION
EQ
Meridian Sound Effect: Yes
Meridian EQ: Yes
Pre-Set EQ(Bass, Normal, Treble, Flat): Yes
Customized EQ: Yes
BATTERY – PRODUCT
Battery Type: Lithium + ion
Battery Capacity: 55 mAh x 2
Battery Charging time: within 1 hours
Battery Life (talk/play on Normal Charging): 5 / 6
Battery Fast Charging Time / Battery Play Life: 5min / 1hr
BATTERY – CHARGING CASE
Battery Type: Lithium + ion
Battery Capacity: 390 mAh
Battery Charging time: within 2 hours
Battery Life (# of Earbuds Charging time): 18 (2 Charges)
BLUETOOTH AUDIO CODEC
CONVENIENCE
Fast Charging: Yes
Upgrade Manager(FOTA): Yes
Companion App(Android/iOS): Yes
Voice command (Google assistant, Siri): Yes
Water/Splashproof: IPx4
Wear Sensor: Yes
Voice Prompt (Support Language): English
TONE Free App (Support Language): English
CONTROL
ACCESSORY(MANUAL)
Simple manual: Yes
Warranty Card: Yes
ACCESSORY(OTHERS)
Data cable: Yes
Extra Ear Gel: L,S