PANASONIC 1.0 / 1.5 / 2.0 / 2.5 HP CS-XU10/13/18/24XKH X-Premium Inverter R32 Air-Conditioner

---
24-Hour Quality Air
Panasonic X-Premium Inverter comes with nanoe™ X technology and Panasonic Comfort Cloud app for continuous 24-hour air protection. Enjoy comfortable cooling in optimal environment with Panasonic innovative solutions such as AEROWINGS, iAUTO-X and Humidity Sensor. Achieve energy efficiency without compromising comfort with Inverter technology, R32 refrigerant, and ECO mode. While the compact design allows installation in tight spaces, its modern, elegant flair fits perfectly in any interior.
nanoe™ X Air Protection All-Day Long
nanoe™ X technology with the benefits of hydroxyl radicals effectively inhibits adhered and airborne pollutants while reducing frequently encountered odours for clean and fresh air. nanoe™ X mode can be switched ON independently (without cooling operation) with low energy consumption at 25W/hour* to continually purify your living space, providing a cleaner and comfortable space for you and your loved ones and making your home a safe heaven 24/7. *Energy consumption may vary depending on models.
nanoe™ X is Effective in Inhibiting Adhered Novel Coronavirus (SARS-CoV-2)
A global contract research organization Texcell has verified the inhibitory effect of the nanoe™ X technology, with known benefits of hydroxyl radicals on the adhered novel coronavirus (SARS-CoV-2). Over 91.4% of adhered novel coronavirus (SARS-CoV-2) activity was inhibited within 8 hours in a 6.7m³ test space. Notes: (1) The virus infectious titer was measured and used to calculate the inhibition rate. (2) This verification was designed to generate basic research data on the effects of nanoe™ X on the adhered novel coronavirus in laboratory conditions. Actual effects will vary depending on the environment and usage of the product.
Dust Removal (PM2.5) with nanoe-G
Using the nanoe-G ion generator, nanoe-G releases negative ions into the air to capture dust particles sized as small as PM2.5, carrying them back to the filter to provide a clean and pristine living space.
Convenient Centralised Control
With the built-in network adaptor and Panasonic Comfort Cloud app, connect up to 20 air conditioning units at 1 location (up to 10 locations), remotely access all air conditioning features, track and monitor usage of air conditioning units using comprehensive energy statistics and identify issues with error notifications for effortless troubleshooting, all just from one mobile device.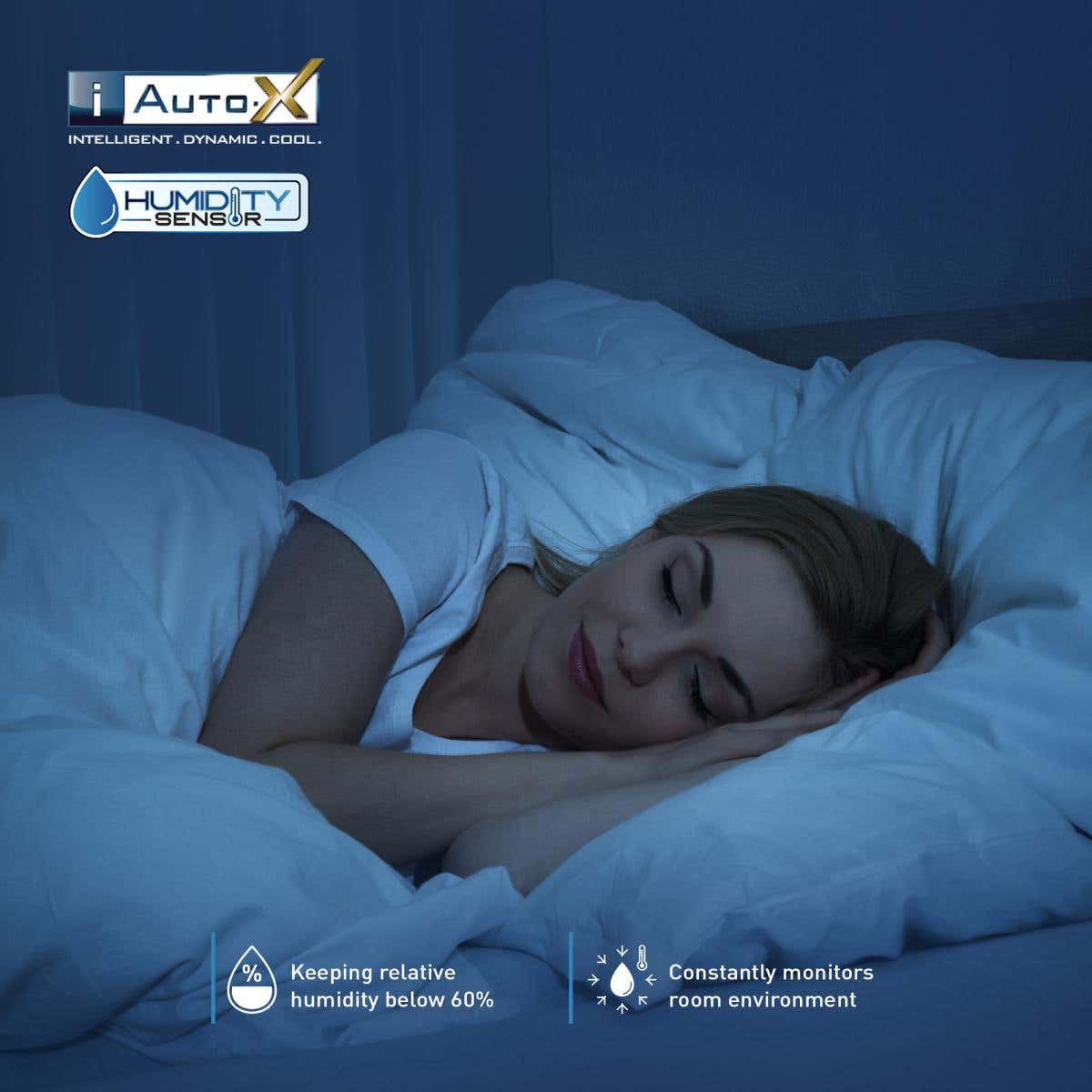 Humidity Sensor Optimises An Ideal Sleeping Environment
Panasonic's new iAUTO-X with Humidity Sensor constantly monitors and adjusts relative humidity levels to below 60% for an optimal sleeping environment, so you can enjoy better sleep with comfortable cooling.
Up to 15 meters Long Air Distance with The Improved New AEROWINGS
The improved new AEROWINGS gives long air distance as far as 15 meters by incorporating two independently controlled flaps. The bigger cross flow fan (105mm) and bigger outer flap (103mm) cool the room in the shortest time possible, increasing the airflow by 10%* and air speed by 20%*. So, you can feel comfortable even if you are across the room. *Compared to previous PREMIUM model (1.5HP).
Faster Cooling with iAUTO-X
iAUTO-X provides 25%* faster cooling through the use of Panasonic Thermal Enhancement Technology (P-TECh) which enables the compressor to achieve maximum frequency quickly from start-up, allowing you to relish the cooling comfort instantly, even on a scorching hot day. This feature can also be reactivated whenever the room is getting warmer due to the increase of occupants in it, keeping your guests comfortable at all times. *Comparison of iAUTO-X Mode & normal COOL mode by using 1.5HP X-PREMIUM INVERTER Model.
Intelligently Balances Comfort and Energy Savings
ECO Mode with A.I Control learns and judges the optimal ECO level to maximise energy savings up to 20%* while providing consistent cooling comfort. *Comparison of ECO mode & normal mode by using 1.5HP Inverter Model.
Energy Saving with Inverter
Panasonic's Inverter technology uses a Panasonic-made microcomputer and compressor to precisely control temperature, which provides a balanced comfort level in the environment while saving energy.
Eco-friendly R32 Refrigerant
Panasonic air conditioners have been increasingly adopting the eco-friendly R32 refrigerant. An excellent heat transfer medium for energy efficiency and cost savings. It also has low global warming potential, making it friendlier to the environment.
Designed To Match Any Interior
Minimalist with matt finishing. It's premium modern design with a touch of elegance enables the air conditioner to seamlessly blend into any interior. The new remote controller's intuitive design provides easy and convenient operation while its ergonomic design provides a comfortable grip.
Fits Perfectly Anywhere
A compact size air conditioner lets it fit easily in tight and narrow spaces such as close to ceilings, close to corner walls, above doors and windows. Its uniquely designed structure conveniently eases installation and maintenance routines.
---
Specifications
Comfort Features
iAUTO-X
Humidity Sensor
ECO Mode with A.I.
Inverter Control
Sleep Mode
Quiet Mode
Soft Dry Operation Mode
Personal Airflow Creation
Cleaner Air Features
nanoe™ X
nanoe-G
Odour Removing Function
Removable Washable Panel
Convenience Features
24-Hour Dual ON & OFF Real Setting Timer
LCD Wireless Remote Control
Wireless LAN Remote Control (For Internet Connection) (Built-in)
Wired Remote Control (Optional)
Reliability Features
Random Auto Restart (32 Restart Patterns)
Blue Fin Condenser
Long Piping (max.): 20 m
Top Panel Maintenance Access
Self-Diagnostic Function
---
Technical Specifications
Voltage: 230V
Power Supply: Indoor
Energy Star Rating: 5 Stars
CS/CU-XU10XKH-1 (1.0HP)
Cooling Capacity (Btu): 9,550
CSPF (W): 6.41
Current: 3.3A
Power Input: 700W
Noise Level [dB(A)]

Indoor: 38/26/19
Outdoor: 47

Dimensions (D x W x H)(mm)

Indoor: 229 x 870 x 295
Outdoor: 230 x 650 x 511

Net Weight (kg)
---
CS/CU-XU13XKH-1 (1.5HP)
Cooling Capacity (Btu): 12,500
CSPF (W): 6.42
Current: 4.2A
Power Input: 950W
Noise Level [dB(A)]

Indoor: 40/26/19
Outdoor: 48

Dimensions (D x W x H)(mm)

Indoor: 229 x 870 x 295
Outdoor: 289 x 780 x 542

Net Weight (kg)
---
CS/CU-XU18XKH-1 (2.0HP)
Cooling Capacity (Btu): 19,000
CSPF (W): 6.96
Current: 6.5A
Power Input: 1,460W
Noise Level [dB(A)]

Indoor: 44/32/27
Outdoor: 50

Dimensions (D x W x H)(mm)

Indoor: 244 x 1,040 x 295
Outdoor: 299 x 824 x 619

Net Weight (kg)
---
CS/CU-XU28XKH-1 (2.5HP)
Cooling Capacity (Btu): 22,500
CSPF (W): 6.10
Current: 8.3A
Power Input: 1,840W
Noise Level [dB(A)]

Indoor: 45/34/28
Outdoor: 52

Dimensions (D x W x H)(mm)

Indoor: 244 x 1,040 x 295
Outdoor: 299 x 824 x 619

Net Weight (kg)