SAMSUNG 50" The Frame QLED 4K Smart Lifestyle TV QA50LS03A

Modern Frame Design – Designed to look like aslim picture frame
Customizable Frame – Match your space with customizable bezels
Art Mode – When The Frame is off, beautiful works of art are displayed
100% Colour Volume with Quantum Dot – A billion shades of colour with Quantum Dot
Make your own TV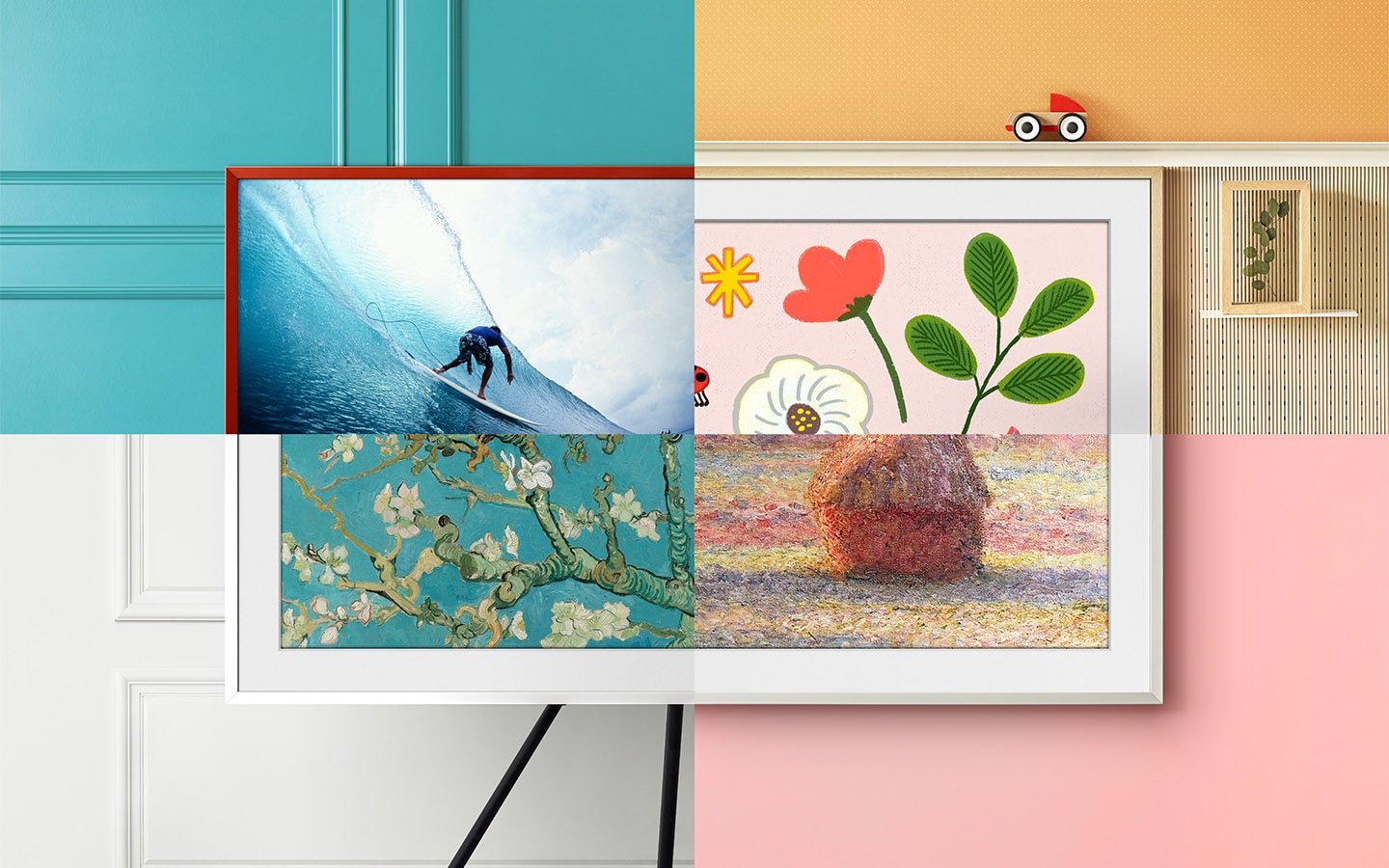 * Images are simulated and for illustration purposes only. The appearance, design and GUI(Graphic User Interface) specifications which is not affecting to product performance are subject to change without notice. * customizable frame sold separately.
"looks amazing just sitting on the wall off. When the art is on it looks extremely real."
65" Class The Frame ArtMode QLED 4K HDR Smart TV (2020), Samsung.com
* The images are for illustrative purposes only and are intended to provide better understanding.
Everything a picture frame does for you, The Frame does more beautifully.
Modern Frame Design
The Frame's minimalist-inspired design blends flawlessly with your interior. It's slimmer, more toned and a monochrome finish on the back creates a sophisticated look from every angle. Connect the One Invisible Connection cable and discover what makes The Frame a modern masterpiece—on or off.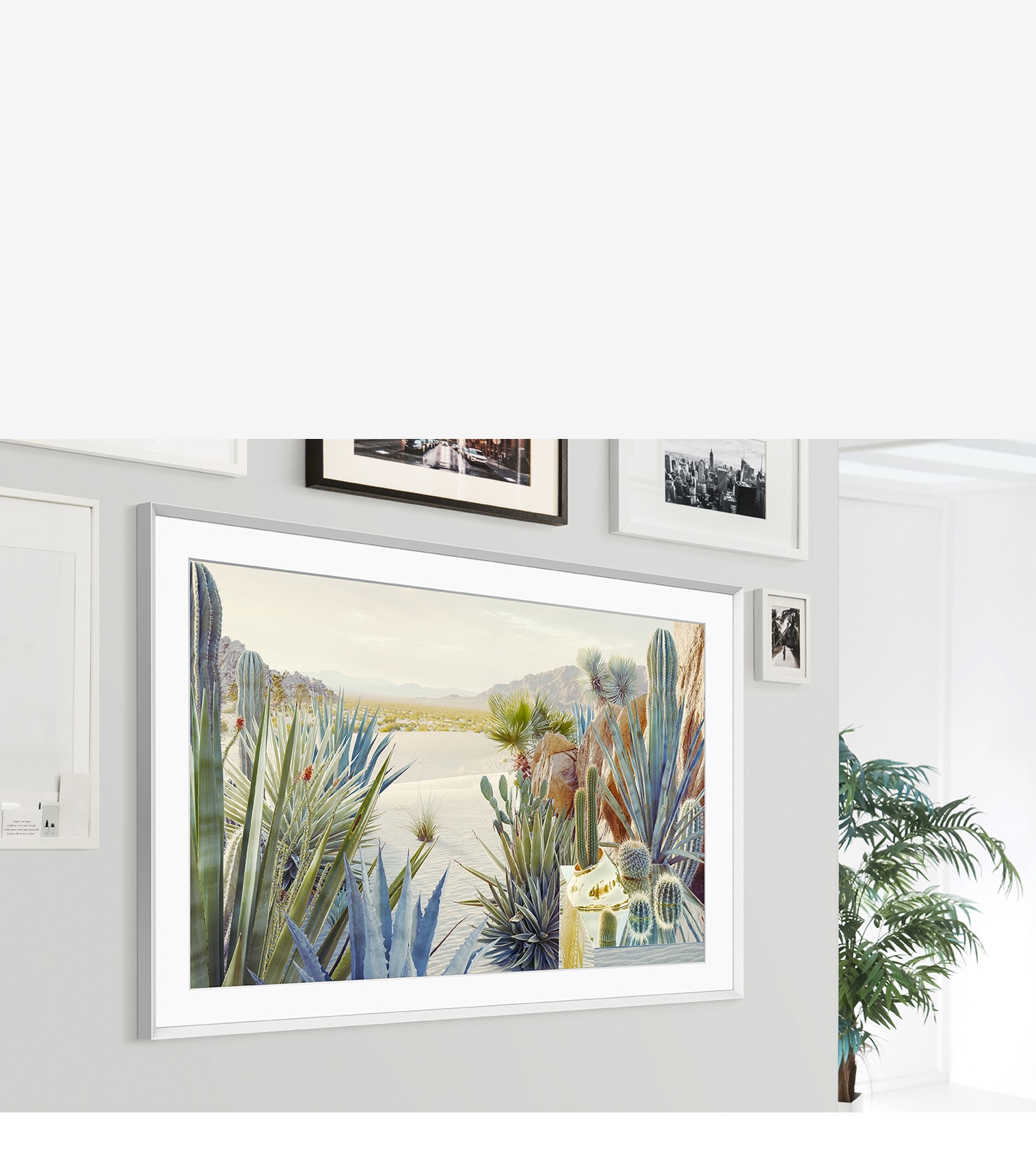 More colours, More styles, More you.
Customizable Frame
Enjoy two bezel style options. Modern bezel style comes in White, Teak and Brown colours and the new Bevel bezel style comes in White and Brick Red. Simple-to-use magnetic application makes it easy to switch between colours and styles and find the right look for the mood you're in.
* Customizable bezels sold separately. Available colours and style may vary by region or TV size.* Customizable Bezel compatibility is based on bezel type. Modern type is compatible with the 43'~ 75' range of The Frame TVs, while Beveled type is compatible with 65" and 55" models.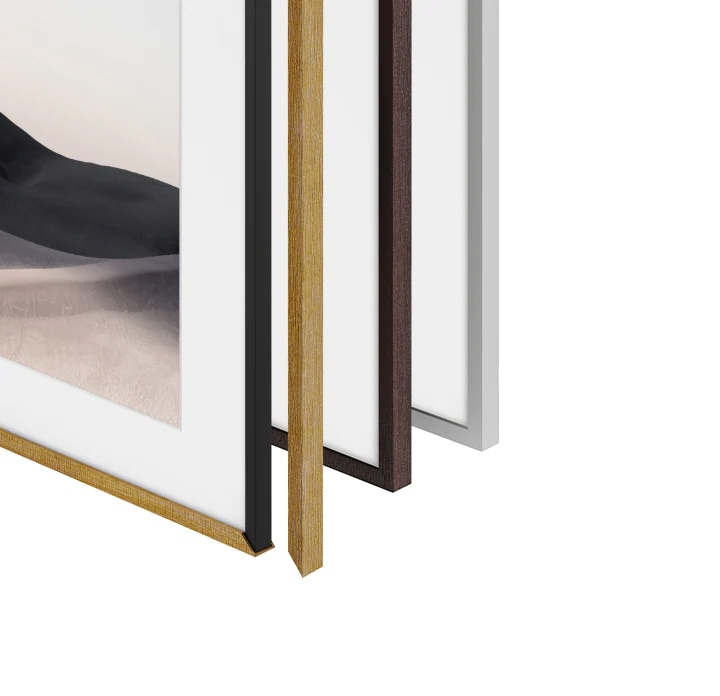 In the box is an easy-to-install wall mount that keeps The Frame extra tight to the wall.
Slim Fit Wall-Mount
Like a real frame, the Slim Fit Wall-Mount brings The Frame flush against the wall. Once mounted, its swivel bracket allows you to rotate the angle of your TV to get it just right. You even have the option to hang The Frame vertically in portrait mode.
* Measured from rear end of the TV, the gap may differ based on the installation and wall type.* A small gap between the wall and TV may occur if wall is not 100% flat or is constructed off-angle to the floor or if installed incorrectly.* The actual angle when tilting may vary by product size.* Portrait mode is compatible only with 43' The Frame with 32' or 43' Slim Fit Wall-Mount.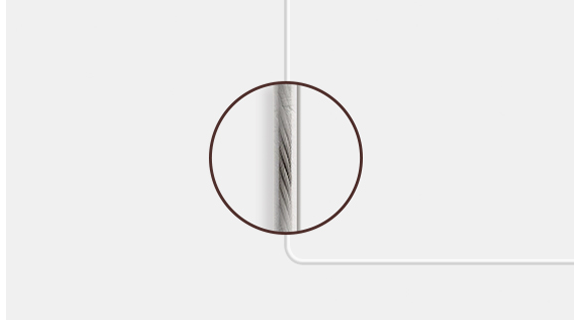 One Invisible Connection comes included with purchase.
One Invisible Connection
Get rid of messy wires once and for all. The single, translucent One Invisible Connection cable seamlessly connects devices to your TV. With up to 15 meters of freedom, you can finally find a more discreet place for your TV peripherals. Which brings us to the One Connect Box.
* 'One Invisible Connection' refers to a single, translucent optical cable connected to the One Connect Box integrating external device cables, but it does not refer cables connected to other devices such as sound bar.* Devices must be connected to One Connect Box.* Compatible devices only.* One Connect Box included with purchase of The Frame.* 5 meter One Invisible Connection cable is included with purchase of The Frame.* 15 meter One Invisible Connection cable sold separately.
One Connect Box, too
One Connect Box
Your external devices no longer have to be placed directly next to your TV. Instead, put them somewhere they can't be seen so you can keep everything about your space looking neat and tidy.
* Jack Port design may vary by region.
One stand moves up and down, the other moves anywhere
Vertical versatility
Height Adjustable Stand
The Height Adjustable Stand allows you to raise The Frame from the surface, leaving enough room to fit a soundbar.
* Not compatible with all soundbar sizes. Please check soundbar size specifications.* Soundbar sold separately.* Distance of vertical movement is estimated based on internal measurements and actual distance may vary.
Discover new places to showcase your style
Stand Options
With Studio Stand, you can move the TV away from the wall and experiment with all your creative layout ideas. As for the messy TV wires, Studio Stand lets you conceal them inside its leg so no matter where you place your TV, that's all you'll see.
* Studio Stand sold separately.* Availability of Studio Stand may vary by region and TV size.* The Frame is only available with Studio Stand model number VG-SEST11K.
Turn The Frame off and let your favorite artwork set the mood.
Art Mode
Turn the Frame off and watch it turn an amazing TV into to a private art gallery with the press of a button. Art Mode gives you the ability to showcase your personal art collection with an incredible array of curated creations—customized and controlled the way you like.
* Art Mode(Smart Service) and GUI(Graphic User Interface) may vary by model and region.
A world-class selection at yourfingertips
Art Store
Curate your own personal art collection with a growing library of over 1,400 pieces of artwork from world renowned institutions. From beloved classics to modern marvels to stunning photography, Art Store gives you unlimited access to a variety of content.
* The Art Store may not be available in some countries.* Art pieces in the Art Store are subject to change without prior notice.* Art Store subscription required to access full selection. Fees apply to subscription service.
Senses your presence
Motion Sensor
The Frame automatically turns on to display your artwork when it senses you've entered the room. Leave the room, and it turns itself off to save energy.
* Motion sensor can be activated in Art Mode settings menu.* Motion sensor is disabled in the following countries: China, Thailand, Uzbekistan, Ukraine and Saudi Arabia.* Motion sensor sensitivity may vary depending on lighting condition.
A simulation of The Frame's motion sensor feature is shown. The Frame displays a piece of art as a girl who is talking on her phone walks through the kitchen. When the girl exits the kitchen, The Frame turns off.
Artwork, always in its best light
Brightness Sensor
If the rooms lighting conditions change, The Frame's Brightness Sensor automatically adjusts screen brightness and colour, retaining the natural look and colour of on-screen visuals.
* Performance may vary depending on lighting conditions.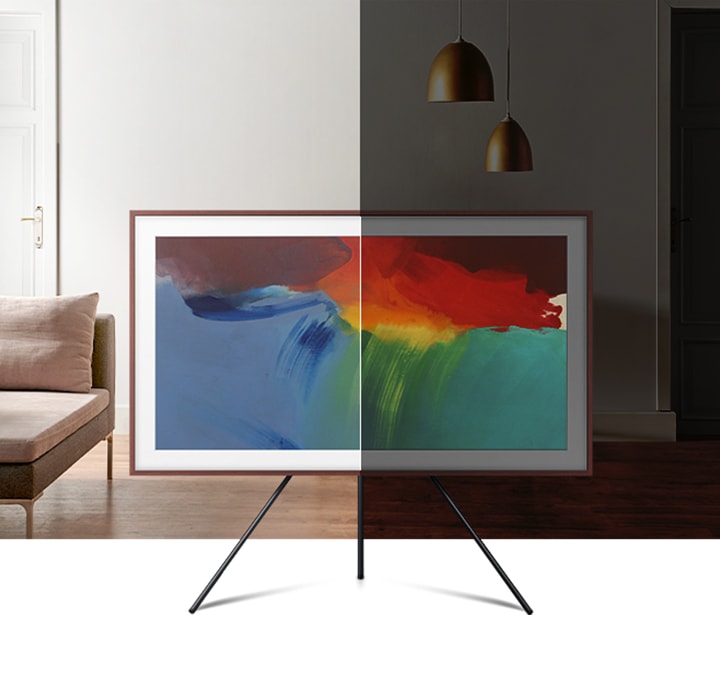 A perfect frame for personal photos, too
My Collection
Artwork isn't the only thing you can showcase on your TV. Send your photos to The Frame via smartphone or USB flash drive and share a masterpiece of your own making.
* Personal photos uploaded to The Frame will be displayed at the original resolution. * 1200 image storage is based on a file size of 5MB per stored photo.* For best results when displaying personal photos we recommend image resolution of 4K (3840*2160) or higher.* Connecting phone to The Frame requires both TV and phone device to be connected to the same Wi-Fi network. * Compatible devices only
A young girl draws a picture of a tropical wildlife scene. Her mother takes a picture of the drawing using her smartphone and selects the drawing using the Smart View app, then selects create mat. When she touches the next button, the TV content is replaced with her daughters drawing.
More personalization options for your art and photos
Mat Canvas
Add a realistic mat canvas behind your artwork to make it stand out. Choose from 5 mat backgrounds and 16 colours.
show more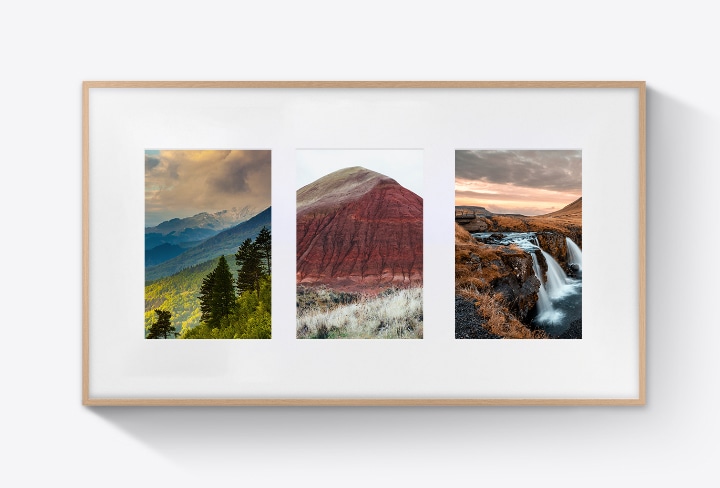 Filter
Apply an authentic colour brushed effect and turn your photos into pieces of art. Choose from Original, Art, Ink, Wash, Pastel, Aqua and Fauve filter effects.
show more
Favorite
Find a piece of art that you like? Build your own personalized collection of favorite art pieces. Select and mark the pieces you like as favorites so you can easily access them all in one place.
show more
Expanded memory (16GB)
This year, My Collection comes with double the internal memory size, giving you plenty of space to store your high-resolution photos and artwork.
show more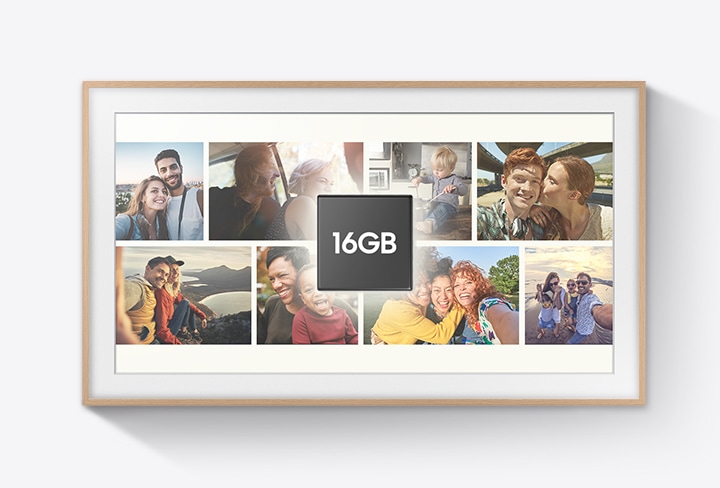 A billion shades of colour with Quantum Dot
100% Colour Volume with Quantum Dot
Quantum Dot technology delivers our finest picture ever. With 100% Colour Volume, Quantum Dot takes light and turns it into breathtaking colour that stays true at any level of brightness.
* 100% colour volume measured in Movie Mode and to DCI-P3 colour space, certified by VDE.
It starts with a next-level, 4K AI processor
Quantum Processor 4K
The Frame is powered by Samsung's own Quantum Processor 4K, an artificial intelligence engine and the result of over 30 years of world-leading semiconductor expertise. AI capabilities in both picture and sound allow it to learn, adapt and enhance to create a next-level viewing experience.

Not in 4K? Not a problem
4K AI upscaling
Scene by scene, The Frame uses machine learning to create a library of various visual data algorithms which it uses to restore the smallest of details, remove image noise and sharpen object edges and text. The result is a highly refined, 4K-level of realism and detail in everything you watch.
* Viewing experience may vary according to types of content and format. Upscaling may not apply when connected to PC or in Game Mode.


True-to-life, fade-free colours
Colour Mapping
The Frame's Quantum Processor 16-bit colour mapping technology applies 3-Dimensional colour control and machine learning to drastically improve colour detail and contrast, making sure every colour is expressed accurately, even in bright scenes or settings.
Auto-optimized picture in any lighting environment
Adaptive Picture
The Frame analyzes the brightness of the room based on four settings—dark, normal, bright, and extra bright—as well as the brightness level of your content and automatically adjusts the TV's brightness and contrast settings accordingly so what you're watching always looks its best.
Auto-optimized sound based on content type
Adaptive Sound
Anything you decide to watch, Adaptive Sound makes sure it sounds its best. Quantum Processor's AI technology optimizes sound based on real-time audio scenic intelligence and automatically adjusts the sound mode to 1 of 4 sound modes including Dialogue, Music, Sport and Action.
Auto-optimized sound based on location
SpaceFit Sound
Using data generated from The Frame's built-in mic, SpaceFit Sound analyzes both the room's acoustics but also its installation environment (Stand or Wall-mounted) and automatically applies the best audio settings. Put The Frame where you want and let SpaceFit Sound take care of the rest.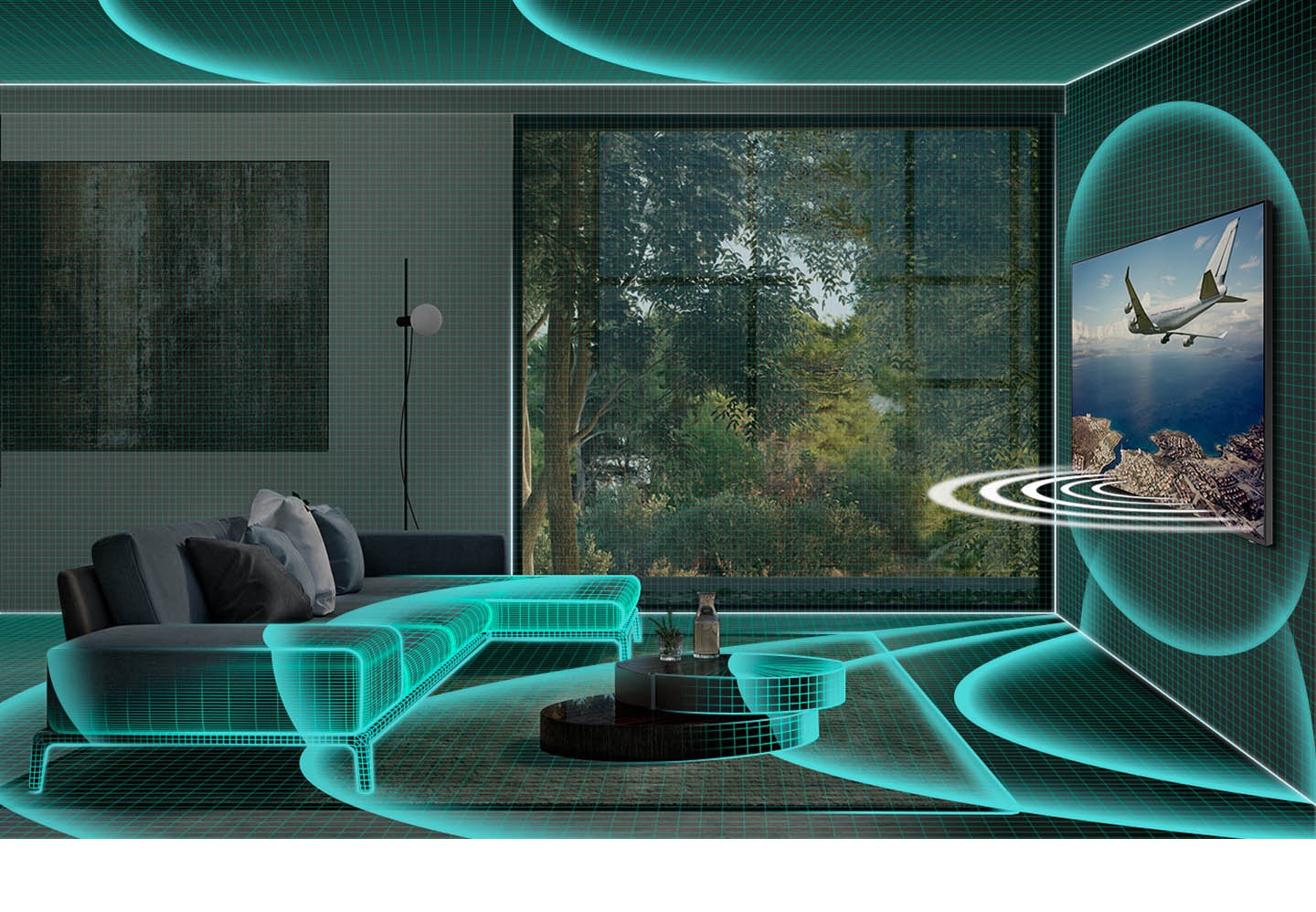 Two-toned backlight, double the colour realism
Dual LED
With an additional set of warm tone LEDs, The Frame's Dual LED backlight expresses more sophisticated colour tone combinations in your visuals, bringing every scene to life in full colour realism, enhanced contrast and improved viewing angles.
Waterfall picture with various blue colours hovers over Dual LED panel which is projecting cool colour tones and makes the image more authentic. Another image featuring many gold colours hovers over Dual LED backlight panel which is projecting warmer colour tones and makes the image more authentic.
Do more from home with The Frame

Turn The Frame into a professional workstation
PC on TV
There's so many ways to stay productive from home with The Frame. It automatically recognizes your office PC, letting you use it right on your TV. Screen share directly from a nearby PC or laptop. Simply connect a Bluetooth mouse and keyboard and see how easy it is to work from home.
* Remote connection to a PC is only supported for Windows 10 Professional or higher edition and Mac OS 10.5 or later.* Auto-recognition of office PC requires Easy Connection App installation on a PC (Not supported on Mac OS).* Easy Connection to Screen App feature support may differ according to model type and date. Please refer to the product specifications of each model for availability.* Connecting smartphone with Samsung Dex requires a compatible mobile device.* Availability of services is subject to change without prior notice.* Internet connection on TV and PC is required.
More ways to connect instantly
Mobile Mirroring
Want to continue your video call on a bigger screen? With SmartThings on your Android device or Apple AirPlay on iPhone, your smartphone can be mirrored on The Frame for a bigger, better video chatting experience.
* This service only works when TV and mobile are turned on.* Apple and AirPlay 2 are trademarks of Apple Inc., registered in the U.S. and other countries. AirPlay 2 requires iOS 12.3 or later, or macOS 10.14.5 or later.* AirPlay 2 functionality is available on all 2020 and later Samsung smart TV.
A customizable multi-screen experience
Multi View
The Frame lets you watch 2 screens at the same time, so you can workout while streaming your favorite show or movie. Connect your smartphone and make sure you're doing the exercises accurately. Customize video size and audio options and take full control of what and how you watch.
* Requires compatible Android OS or iOS smartphone and SmartThings app download and installation. Please refer to support page for details on compatible mobile devices* 4-screen Multi View is supported on 8K models. * Landscape view supported on 43'~75' The Frame models. Portrait mode not supported.
Home entertainment, the smarter way
Smart TV Powered by TIZEN
Your home's all-in-one content and connection portal, SmartTV brings you a world of content that goes beyond the viewing experience with smarter ways to connect, search, control and enjoy all that entertains you. Below, are just a few of the ways SmartTV elevates your everyday experiences.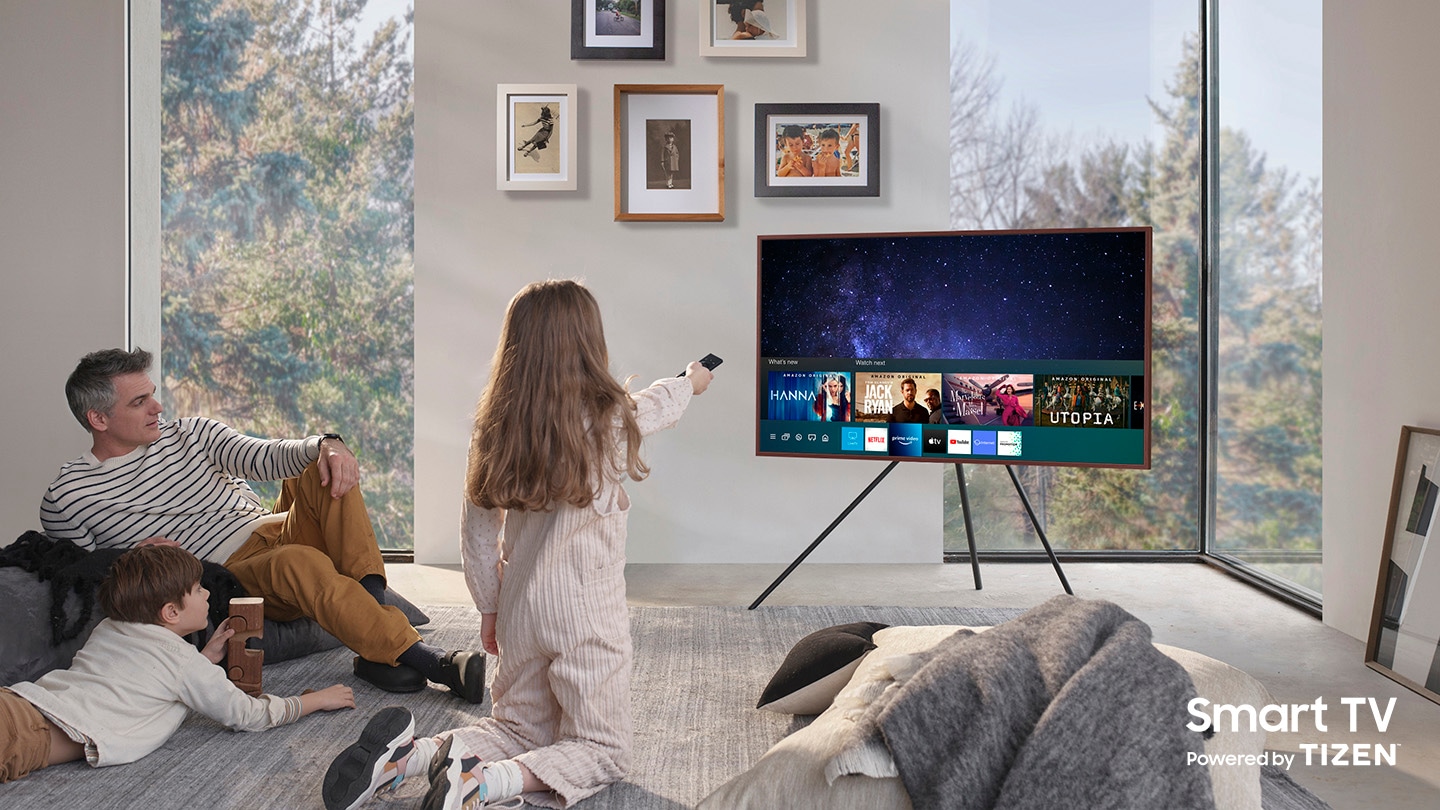 * Smart services and GUI (Graphic User Interface) may vary by model, region, language, mobile devices, or TV product.* A Samsung Account is required to set up the TV.* Actual user experience may vary.* Some features and functions provided by connected devices may not be supported or limited to use.* Turn-on TV feature support may vary by model.
Connect your phone to the big screen with just a tap
Tap View
Don't feel like listening to music through headphones or phone speaker? Give The Frame a light tap with your smartphone and watch Music Wall visualizations add ambience to your room while your music is played through the TV speakers for an enhanced visual listening experience.
* This service only works when TV and mobile are turned on.* Tap View is available on Samsung Galaxy devices with Android OS 8.1 and higher.
First-of-its-kind innovative Eco Remote does away with batteries
Solar Cell Remote
The Frame automatically detects your external devices so they're ready to use the moment you connect them. Use One Remote for easy control of all your connected devices and don't worry about changing batteries—solar cell technology allows it to be charged by your indoor lights.
* 32 inch of The Frame is excepted. * SolarCell Remote contains about 24% recycled content.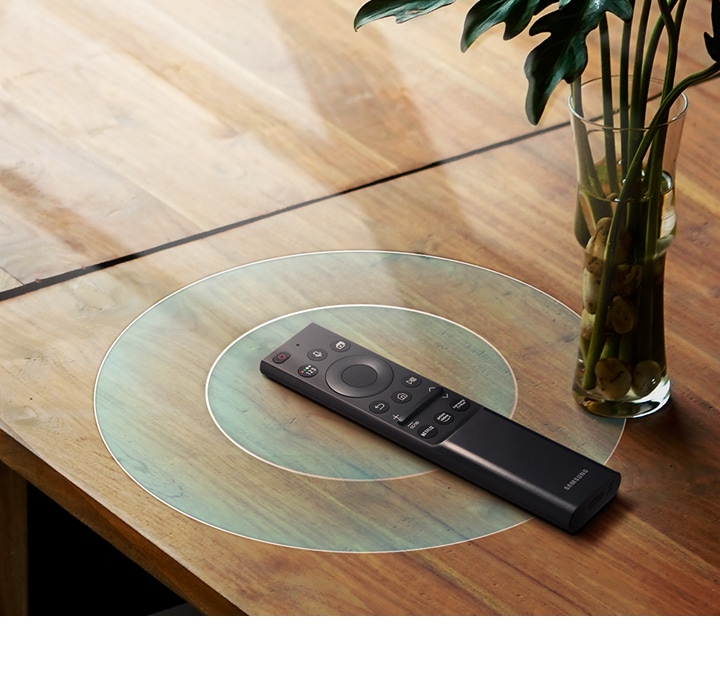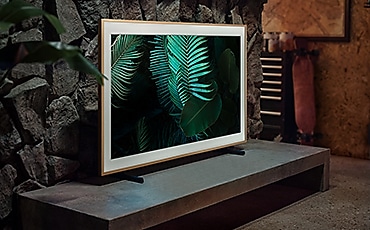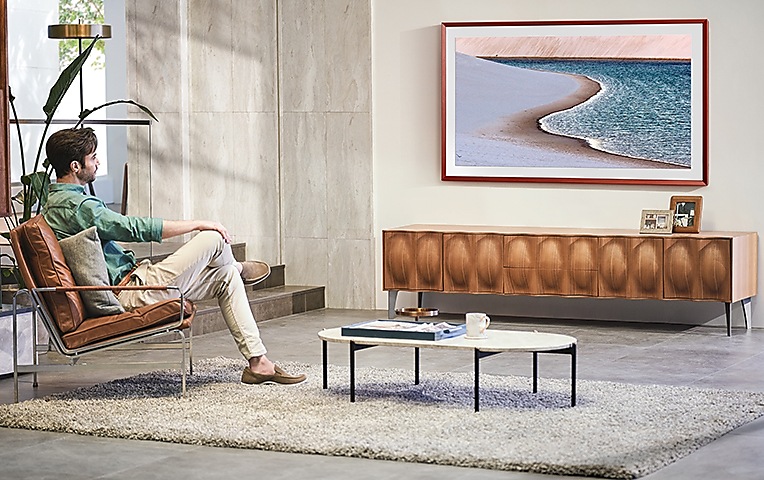 Specifications
Specifications Detail
Product
Series
Display
Screen Size50"
Resolution3,840 x 2,160
Video
Picture EngineQuantum Processor 4K
PQI (Picture Quality Index)3000
HDR (High Dynamic Range)Quantum HDR
HDR 10+Certified
HLG (Hybrid Log Gamma)Yes
ContrastMega Contrast
Color100% Colour Volume with Quantum Dot
Micro DimmingSupreme UHD Dimming
Contrast EnhancerYes
Auto Motion PlusYes
Film ModeYes
Audio
Dolby Digital PlusYes
Dolby 5.1 DecoderN/A
Object Tracking SoundOTS Lite
Q-SymphonyYes
Audio Pre-selection DescriptorN/A
Hole Array SpeakerN/A
Sound Output (RMS)20W
Speaker Type2CH
WooferN/A
Multiroom LinkYes
Bluetooth AudioYes
Smart Service
Samsung SMART TVSmart
Operating SystemTizen™
BixbyUS English, UK English, India English, Korean, French, German, Italian, Spanish, BR Portuquese (features vary by language)
Voice InteractionN/A
Far-Field Voice InteractionN/A
Multi Voice AssistantN/A
Google Assistant Built-inN/A
Works with Google AssistantN/A
Works With AlexaN/A
TV PlusN/A
Web BrowserYes
SmartThings App SupportYes
SmartThingsN/A
Samsung HealthN/A
Universal GuideN/A
GalleryYes
Convergence
TV to Mobile – MirroringYes
Mobile to TV – Mirroring, DLNAYes
NFC on TVN/A
Tap ViewYes
Digital ButlerYes
Multi-Viewupto 2 videos
Sound WallYes
Remote AccessBasic
360 Video PlayerYes
Bluetooth Low EnergyYes
WiFi DirectYes
TV Sound to MobileYes
Sound MirroringYes
Tuner/Broadcasting
Digital BroadcastingDVB-T2
Analog TunerYes
CI (Common Interface)N/A
Data BroadcastingHbbTV 2.0.2
Connectivity
HDMI4
USB2
Component In (Y/Pb/Pr)N/A
Composite In (AV)1
Ethernet (LAN)Yes
Digital Audio Out (Optical)1
RF In (Terrestrial / Cable input)1/1(Common Use for Terrestrial)/0
Ex-Link ( RS-232C )N/A
CI SlotN/A
HDMI A / Return Ch. SupportYes
eARCYes
HDMI Quick SwitchYes
Wireless LAN Built-inYes (WiFi5)
BluetoothYes (BT4.2)
Anynet+ (HDMI-CEC)Yes
Design
DesignBrand new the Frame
Bezel TypeVNB
Slim TypeSlim look
Front ColorBLACK
Stand TypeSIMPLE
Stand ColorBLACK
Speaker Jersey ColorN/A
Additional Feature
Adaptive PictureYes
Active Voice AmplifierYes
Adaptive SoundAdaptive Sound+
AI StreamingN/A
AI UpscaleYes
Auto RotationN/A
Art Mode (The Frame)Yes
Motion Detection (Frame)Yes
AmbienceAmbient Mode+
Brightness/Color DetectionBrightness/Color Detection
Portrait ModeN/A
Accessibillity – Voice GuideUK English, Mandarin Chinese
Accessibility – Learn TV Remote / Learn Menu ScreenUK English
Accessibility – OthersEnlgarge / High Contrast / Multi-output Audio / SeeColors / Color Inversion / Grayscale / Sign Language Zoom / Slow Button Repeat
Digital Clean ViewYes
Auto Channel SearchYes
Auto Power OffYes
Caption (Subtitle)Yes
Connect Share™ (HDD)Yes
ConnectShare™ (USB 2.0)Yes
EPGYes
Extended PVRYes
FreesyncN/A
G-SYNCN/A
Filmmaker Mode (FMM)Yes
IP ControlYes
OSD LanguageLocal Languages
BT HID Built-inYes
USB HID SupportYes
Teletext (TTX)Yes
Time ShiftYes
V-ChipN/A
IPv6 SupportYes
Eco Feature
Eco SensorYes
Energy Efficiency ClassN/A
Power
Power SupplyAC100-240V 50/60Hz
Power Consumption (Max)120 W
Power Consumption (Stand-by)N/A
Power Consumption (Energy Saving Mode)N/A
Power Consumption (Typical)N/A
Peak Luminance RatioN/A
Yearly Power Consumption (EU standard)N/A
Dimension
Package Size (WxHxD)1251 x 775 x 174 mm
Set Size with Stand (WxHxD)1124.1 x 679.2 x 227.8 mm
Set Size without Stand (WxHxD)1124.1 x 644.9 x 24.9 mm
Stand (Basic) (WxD)757.4 x 227.8 mm
Stand (Minimum) (WxD)– x –
Weight
Package Weight 20.9 kg
Set Weight with Stand 12.2 kg
Set Weight without Stand 11.8 kg
Accessory
Remote Controller ModelTM2180E
Batteries (for Remote Control) N/A
Samsung Smart Control (Included) Yes
Optional Stand Support (Y20 Studio) Yes
Optional One Connect Cable Support Yes
Vesa Wall Mount Support Yes
Customizable Frame Support (The Frame) Yes
User Manual Yes
E-Manual Yes
ANT-Cable N/A
Power Cable Yes
HDMI Cable N/A
Slim Gender Cable Yes