LG 8kg Inverter Top Load Washing Machine T2108VS3M | Smart Diagnosis
---
Energy Saving with Smart Inverter Control
Smart Inverter Technology eliminates wasted operation by efficiently controlling energy use.
*VDE tested in Apr.2017 with LG T2515VSAL and LG WF-T1480TD, using normal program with 7.5kg load.
Auto Restart
When a washing machine is turned off due to power failure, it will restart automatically from the position it stopped to adjust accordingly.
Standby Power Save
Even if the power cord is plugged in while power is off, only extremely little electricity will run through the washer. You don't need to worry about wasted electricity.
LoDecibel™ & Less Vibration
BMC Motor Protection holds the motor tightly so that it can minimize the noise and vibration level. Plus more durability and 10 year motor warranty.
*VDE tested in Apr.2017 with LG T2514VSAL, using normal program with 8.4kg load, on washing noise level.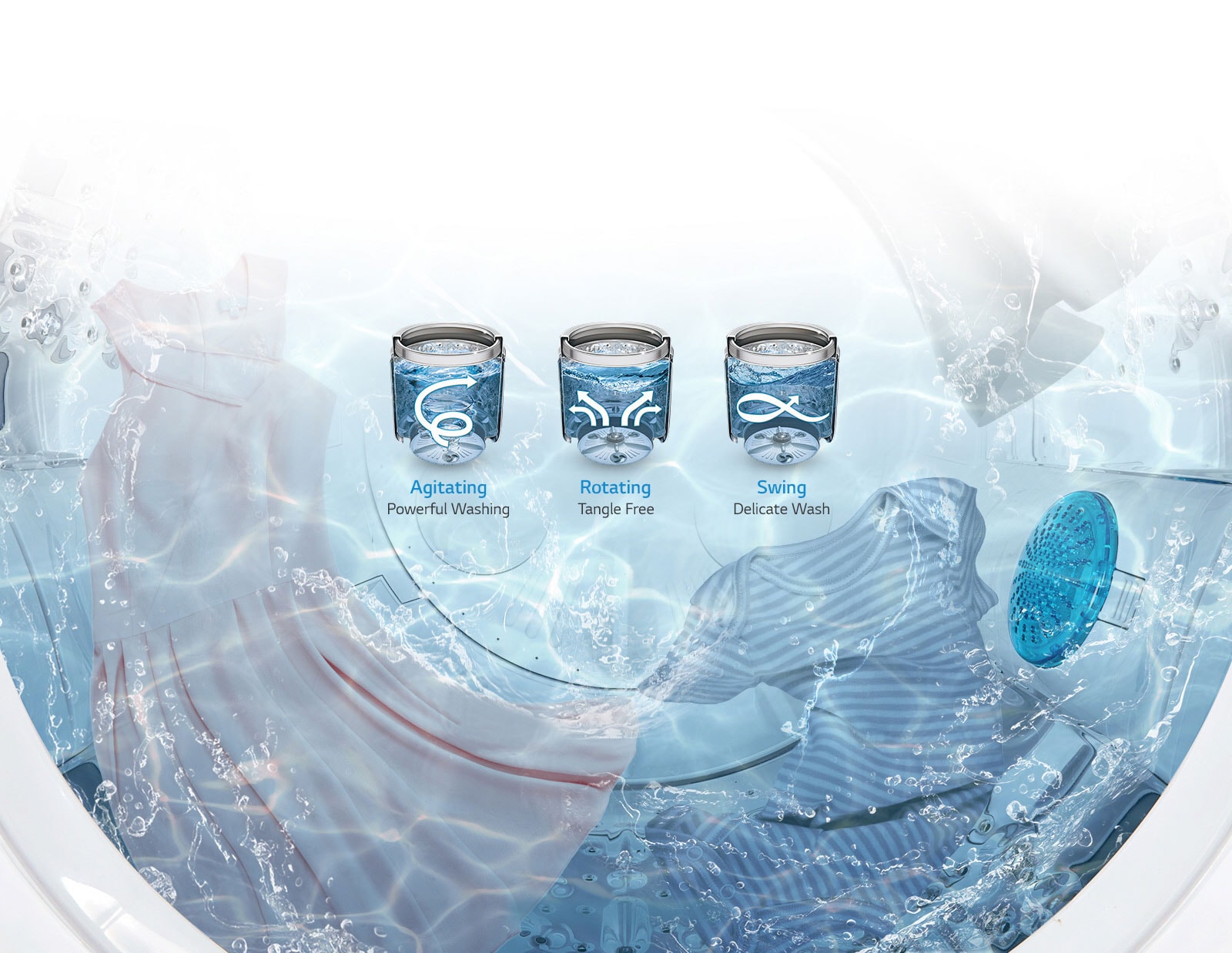 Smart Motion
Smart Motion is 3 kinds of motions created by Smart Inverter for optimized washing by fabric type. Enjoy better combination for better care.
TurboDrum™
TurboDrum™ enables the most powerful wash and removes the toughest dirt through strong water stream of rotating drum and pulsator in the opposite direction.
Smart Diagnosis™
Smart Diagnosis™ helps diagnose and troubleshoot mechanical issues, limiting costly and inconvenient service visits
Side Waterfall
Side Waterfall enables the best mixing of detergent with water while minimizing detergent residue that can cause skin irritation and allergy.DIMENSIONS
---
Specifications
CAPACITY
GENERAL FEATURES
Motor: Inverter
Body Color: Middle Free Silver
Dimension (WxDxH,mm): 540 x 540 x 945
Weight (Net): 30
KEY FEATURES
TurboWash™ –
TubroDrum: Yes
Jet Spray –
Wave Force™: Yes
Smart Hinge –
6 Motion –
Heater –
Wifi (Wifi Control) –
Smart Diagnosis: Yes
Standby Power Zero –
Drying Type –
WASH PROGRAM
Normal: Yes
Pre Wash + Normal: Yes
Duvet: Yes
Quick Wash: Yes
Wool (Hand / Wool): Yes
Rinse+Spin: Yes
Extra Clean: Yes
Tub Clean: Yes
ADDITIONAL OPTIONS
Wash Option –
Rinse Option –
Spin Option –