Bacon & Mint Mash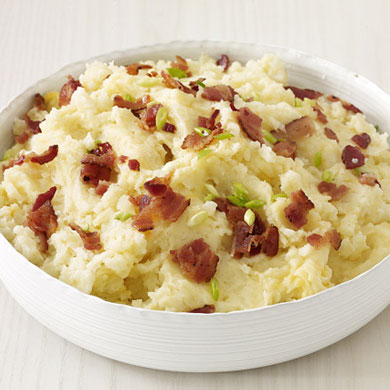 Ingredients
1 kg Maris Piper, peeled

1 tbsp olive oil

6 rashers rindless smoked streaky bacon, roughly chopped

1 x 142ml carton double cream

25 g butter

1 x small packet fresh mint, chopped

freshly ground black pepper

mint leaves, to garnish
Serves 4-6

35 minutes

Easy
Cook the potatoes in a pan of boiling salted water for about 15 – 20 minutes, until tender. Drain thoroughly.

Place the boiled potatoes in the bowl, fit the K beater and beat on Speed 3 for about 20 seconds, until mashed.

Meanwhile heat the oil in a frying pan and cook the bacon for 5 – 10 minutes, until golden and crispy. Add the cream and butter and bring to the boil, stirring until butter is melted.

Add the bacon mixture to the potatoes with the mint and pepper and beat on Speed 2 for about 20 seconds, until well blended. Scatter over mint leaves and serve immediately.